To better cover the various aspects of the subject matter, this article has been split into one main page and several subpages. Select which one you wish to read.
Alistair Wonderland was trademarked on July 16, 2013 and his debut doll came out around Mid May 2015. As of October 01, 2020, his doll number totals 2 and makes up 1.28% of the entire Ever After High doll collection. No other merchandise of him is available.
Dolls
Signature - Royals
Doll: Alistair has fair skin, striking blue eyes and blonde hair that's styled with a comb over to the left.
Clothes: Alistair wears a beige t-shirt, tan pants and a dark blue utility jacket with Wonderland-inspired print such as compasses, tea pots and card suits in white, with a lighter blue swirl pattern behind. His shoes are high dark brown explorer boots.
Accessories: His accessories include a dark brown canteen with a compass dangling from a chain on the side.
Extras: Gold stand and a diary.
Notes: There is nothing of note about this doll's availability or stockphoto.
Carnival Date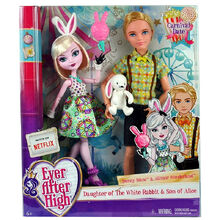 Doll: Alistair has fair skin and combed blond hair. He has sky blue eyes and brown eyebrows, along with nude lips.
Clothes: Alistair wears an orange top checkered with shades of lighter orange and yellow, and blue in a crisscross pattern with a small orange bow tie situated in the center of his collar. He wears denim-colored shorts and teal loafers.
Accessories: Alistair comes with a white bunny toy.
Extras: Gold stand and brush.
Notes: Alistair is only available in a 2-pack with Bunny Blanc.
Gallery