To better cover the various aspects of the subject matter, this article has been split into one main page and several subpages. Select which one you wish to read.
Cerise Hood was trademarked on May 14, 2013, and her first doll came out in Late November, 2013. As of October 01, 2020, her doll number totals 7 and makes up 4.49% of the entire Ever After High doll collection. Other merchandise of her is limited to costumes.
Dolls
Signature - Rebels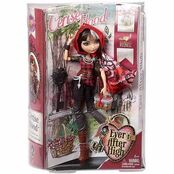 Doll: She has long, straight dark brown hair with a white streak and pale pink lips.
Clothes: Cerise wears a small red hood decorated by tree branches which form a wolf face on the back of the cape. It is held together with chains. She has a red and black plaid dress with lacy black sleeves and two black lace skirts. She wears shimmery, distressed gray leggings.
Accessories: She has a molded plastic triple belt that is brown with silver buckles and a silver side chain. She wears a red flower ring and a black shackle bracelet. Her basket is light brown with a gray and red plaid cover and red bow handle. Her boots are up to her knees with silver straps and brown laces.
Extras: Black stand, brush and a diary.
Notes: There is nothing of note about this doll's availability or stockphoto. This doll was re-released in 2015, but without her ring. She was released for a 3rd time at the end of 2015 with the 2nd release changes plus the diary changed its style. In 2016, she was released again with the diary changed into a Card and her brush and stand being removed.
Hat-Tastic Party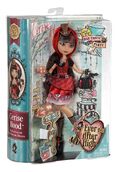 Doll: Cerise's white streaks are recolored red. She has extremely pale red and gray eyeshadow and bright cerise lips.
Clothes: She wears a medium dark to light red dress with black puffy sleeves, and her dress contains a half-translucent, checkered layer of plaid peplum around the waist. Underneath, she has a red-fading skirt with tea and leaf designs. She has black fishnet socks and black shoes with red ribbons.
Accessories: She accessorizes with a boot-like hat, a brown belt, a silver teacup necklace, mismatched tea cup earrings, a black and red purse with a lace design, and a wicker-themed tea set.
Extras: Black stand and brush.
Notes: Her socks are solid black in the promo photos, but are fishnet mesh on the final doll. This doll was re-released in 2015 but is missing her belt, socks, and purse.
Legacy Day
Doll: Her hair is in a high bun, which is let loose at the back, her bangs are sheared to the left, with an especially prominent white streak, which runs through the whole of her hair. She has bright red lipstick, with silver glitter and nude eyeshadow.
Clothes: She has a simple black, white and gray plaid dress, which fades into shadowy black hexagonal patterns. The bottom of the dress is bell shaped, and gets significantly larger towards the base. She has red stockings. Her red hooded cape has a large gray-brown fur trim around the hood, and is patterned in red, black, silver and white dead tree silhouettes and starbursts, it is held at the front by two silver wolf clasps.
Accessories: Her earrings are silver, shaped as a stud on her left ear and a chain loop on her right. She has a silver hair ornament, with a jewel in the middle surrounded by fur. Her bracelet is brown, made to imitate a leather collar. Her ring is also silver, and shaped as a wolf's head. Her belt is brown, held by a brown buckle, with silver chains and a brown fur puff hanging from it. Her necklace is red jewels, which continue into red chains which cover her shoulders. Her purse is brown wicker, with red clasps wrapped around it. Her shoes are black boot heels, with silver chains across the front.
Extras: Cerise comes with a silver doll brush and black doll stand with a red mirror book, adorned with black studs and a silver wolfs head atop the mirror. The book is accompanied by a silver wolf head key.
Notes: There is nothing of note about this doll's availability or stockphoto.
San Diego Comic-Con International dolls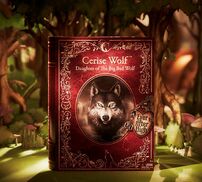 Doll: She has white hair streaked with gray, and luminescent yellow eyes. She has silver and purple layered-out eyeshadow with smoke trails of claw-like marks around her eyes. She has mild pink lips with fangs.
Clothes: Cerise wears a large cerise cloak with fur trim about the hood and a wolf headpiece. A torn laced layer is attached to her shirt. She wears a short-sleeved mesh top with a vine pattern with red undershirt and checkered tights. She has dark brown boots with gold wolf faces and brown gloves.
Accessories: She accessorizes with several metallic bracelets around her arms, a yellow vine and branch necklace, a yellow belt, wolf-like earrings and a gray fur clutch gold wolfs-head handle.
Extras: Black stand and brush.
Notes: This doll is an exclusive to San Diego Comic-Con International 2014.
Spring Unsprung
| | |
| --- | --- |
| | |
Doll: Cerise styles her hair in a large side braid. Dark cerise eyeshadow surrounds both her eyes, along with dark red lipstick. A thick purple streak is added to the front of her fringe.
Clothes: She wears a black-and-white checkered belt-up jacket with a hood at the back covered in berry patterns. Red flower shoulder pads are connected by black chains. Cerise wears a black tight skirt along with white leggings with black branch with red and purple flower patterns which flows down her legs. She wears black thorn boots up to her calves with bright white flowers on them.
Accessories: Cerise accessorizes with a large white flower and berry headband colored black. She wears a silver bracelet on her left hand and a small red ring on her right. Cerise has a black leaf handbag and silver branch earrings. Cerise also comes with a wearable leaf ring.
Extras: Cerise comes with a silver stand, brush, and a diary.
Notes: There is nothing of note about this doll's availability or stockphoto.
Enchanted Picnic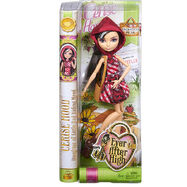 Doll: Cerise has her fringe swept to the right. The bottom of her hair has bouncy curls. Her lips are natural pink and she wears layered red and pink eyeshadow.
Clothes: Cerise wears her signature hood over her head with a checkered frill-style dress. Ornate black embellishments of howling wolves are accented on her dress. She wears brown open-toe wedges with several straps.
Accessories: Silver stand and brush.
Extras: TBA
Notes: There is nothing of note about this doll's availability or stockphoto.
TriCastleOn
Doll: Cerise's fringe is parted brown and white in the center. She has red and silvery eyeshadow and dark red lips.
Clothes: She wears a checkered grape purple sleeveless top with an attached red hood. The top features the EAH school crest. She wears black jumpsuit-style leggings with yellow stripes running down the sides of them. She wears red running shoes with black laces.
Accessories: Cerise accessorizes with a brown belt, a silver stopwatch necklace and a golden flask.
Extras: Black stand and shared diary.
Notes: Cerise was only available in a 3-pack with Hunter and Lizzie.
Costumes
For organizational purposes, information on the costumes representing Cerise Hood is only available elsewhere on the Ever After High Wiki.
Notes