To better cover the various aspects of the subject matter, this article has been split into one main page and several subpages. Select which one you wish to read.
To make reading easier, this page is split up in four sections:
Ever After High staff - The staff and associates of the titular high school, regardless whether they teach or fulfill another function, regardless when they were associated with Ever After High, and regardless of the fiction they appear in.
Other adults - All the individual, adult characters that appear in Ever After High, but aren't related to the school.
All characters within a section are listed alphabetically.
Ever After High staff (Cont)
Baba Yaga
Baba Yaga is a faculty advisor at Ever After High, and as such it is her job to help students who are "off the right path". With that in mind, however, she is far less strict in her view of the Rebels than Headmaster Grimm.
Badwolf
Mr. Badwolf is a teacher of villainous students and the Head of General Villainy. He encourages their evil behavior as long as they stick to the schedule. He is also Cerise Hood's and Ramona Badwolf's father.
Card
Professor Card is an art teacher and a former guard of the Queen of Hearts.
Evil step-librarians
The evil step-librarians are the mean librarians of Ever After High and they're Ashlynn Ella's step-aunts. They can make the students re-catalog a whole section as a punishment, and they tend to shush people for even the slightest whisper. One is Auntie Step, and the other is the future Wicked Stepmother, who is the mother of Charlotte and Prudence Step.
Giles Grimm
Not many students know of Giles Grimm, which is not surprising; he has been locked under the school for awhile. He was preoccupied for some time with breaking a babble spell cast upon him, but has always been aware of the conflict occurring above ground, which he watches through his magic mirror. But during the events of "Thronecoming", his babble spell or curse of speaking Riddlish was broken and cast off.
Gold
Professor Gold was a faculty advisor for the Royals, recently replaced by the White Queen.
Gingerbreadman
The Grimmnastics teacher of Ever After High goes by Coach Gingerbreadman. He is strict about which sports are played and when. He is predictably interested in teaching students how to run, which is his area of expertise.
Green Thumb
Mr. Green Thumb is the groundskeeper and gardener of Ever After High.
Hagatha
Hagatha is the lunch lady at Ever After High. She's a woman of few words. Hagatha makes horrible food.
Jack B. Nimble
Professor Jack B. Nimble is a somewhat eccentric teacher of Geografairy and Tall Tales. The students seem to like him and his outlandish stories.
King Charming
Knight
Professor Knight teaches Wooing 101 and Hero Training at Ever After High. He wears a steel knight armor, and is always seen on his horse's back. His horse is a swaybacked old thing with a white beard that matches his own.
Maid Marian
Madam Maid Marian, well-versed in the art of waiting to be rescued, is appropriately the teacher of Damsel-in-Distressing class at Ever After High. She is married to Robin Hood. She is also the mother of Sparrow Hood.
Milton Grimm
Milton Grimm is the headmaster of Ever After High. He is responsible for turning out the next generation of queens and kings, heroes and villains, and consequently, ensuring the safety of the magical realm. Unlike his brother, Giles, he will not hear of any fairy tales foregoing their destinies, and would encourage anyone entertaining the notion to banish such dangerous thoughts from their heads.
Momma Bear
Mother Goose
The famous Mother Goose acts as a guidance counselor at Ever After High.
Mr. Pop and Mr. Weasel
Mr. Pop and Mr. Weasel are the characters from the nursery rhyme "Pop! Goes the Weasel". There's a stone tower that stands in the center of Book End. It is tall, as towers tend to be, and topped with turrets. It houses three businesses, one of them being Mr. Pop and Mr. Weasel Mulberry Purveyors, in suite A.
Pied Piper
The Pied Piper is an enthusiastic man and a professor of Muse-ic at Ever After High. His flute-playing always causes a flurry of rats to appear, usually at his expense. He is also the father of Melody Piper
Poppa Bear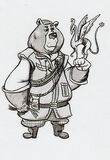 Professor Poppa Bear is the Beast Training and Care teacher of Ever After High. The bespectacled bear is ironically gentle and polite.
Rumpelstiltskin
One of the teachers of the school, Rumpelstiltskin is depicted as a very short man with a Russian accent. Just like in his story, he's incredibly greedy, and is more interested in scamming his students into making him money than actually teaching them.
Trollsworth
Miss. Trollsworth is the secretary of Headmaster Grimm and she is very strict towards students, as she almost never lets them in the headmaster's office.
Twelve Madames
Advanced Ballet is a class taught at the Red Shoes Studio, which is managed by the Twelve Madames of The Twelve Dancing Princesses fame. The twelfth is the mother of Justine Dancer and her eleven sisters. One of the Madames is the teacher of Duchess Swan in her private afternoon class, Advanced Ballet.
White Queen

The new Royal advisor to princesses, Mrs. Her Majesty The White Queen, as she prefers to be called, is bossy and not above humiliating students who don't humor her Wonderlandian whims. She teaches Princessology.
Other adults
All the King's Horses and All the King's Men
All the King's Horses serve All the King's Men, patrolling the campus at night to make sure students don't try to sneak out and break the headmaster's curfew. But of equal importance, they made sure no one tries to sneak in, like a village boy who'd been starstruck by Charming family fame, or an ogre who had a hankering for Hagatha's stone soup.
Aquilona
Aquilona is the current north Wind. She is the daughter of Boreas, the previous North Wind. Princess Aquilona was destined to take on her father's responsibilities, but she refused. And so, Aquilona ran away to be selfish, ignoring her great destiny. Meanwhile, Boreas got old, and died. Without a shepherd, the winds tore up trees and hassled hills. Wanting a shepherd, the winds, blew all the way to Aquilona, but she was too selfish to claim her destiny. In her struggle against the wind, Aquilona was stripped of her body, becoming Wind herself. And because of this she can't talk to students when they visit her.
Barista
Beast
The Beast is the main character of the tale "The Beauty and The Beast along with Beauty, who is his wife. He is also the father of Rosabella Beauty. He was once a Beast but the love of Beauty saved him from his curse. He lives at Beauty and the Beast Castle.The Beast and Briar's father don't get along very well, though. Since Briar's father is a hero, he can't still get over the fact that Rosabella's father was a beast in the past. He's also Briar Beauty's uncle.
Beauty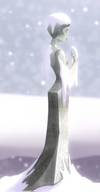 Beauty is the heroine from her generation's Beauty and the Beast. She is also the sister of Sleeping Beauty. Her husband is the Beast from the same tale, and together they are the parents of Rosabella Beauty. She's also Briar Beauty's aunt. She lives at Beauty and the Beast Castle.
Betty Bunyan
Betty Bunyan is the blacksmith of the Village of Book End. She's at least seven feet tall and strong built and has black hair in multiple braids. She has covered her arms with flame tattoos and has a diamond nose piercing. She is the daughter of Paul Bunyan. Darling calls her a "kindred spirit".
Biggle Waggle
Biggle Waggle is a troll, who lives in a swamp in the Dark Forest. He had never been invited to a party before, so he traps Ashlynn, Cupid, Blondie and Poppy at their own party in his swamp. Poppy tells him that if he wants to be invited to parties that he has to be nice. She then decides to give him a makeover and invite him to join them at The Forest Fest, feeling happy that someone has been nice to him, Biggle Waggle decides to let the girls go.
Billy Goat Gruff
Blue-Haired Fairy

The Blue-Haired Fairy is the fairy who turned Pinocchio into a human and cast the spell on his daughter Cedar upon the request of Pinocchio himself.
Bridge Troll
Candy Witch
The Candy Witch is an overly misunderstood witch who is the humble and loving mother of Ginger Breadhouse. Still, the people of Ever After are cautious when it comes to her baked goods. To please Ginger she had also played the role of Ms. Breadhouse who looked nothing like a witch so she could attend Ginger's school activities without scaring everyone.
Captain Greenbeard
Captain Greenbeard is the captain from the ship which leads students from faraway kingdoms to Ever After High. He is a very kind captain, who likes the passengers who don't feel seasick, like Meeshell Mermaid.
Captain Hook
Captain Hook is the cruel pirate king of Neverland who is the Captain of the ship The Jolly Roger. Madeline Hatter visited him in the Yester Day holiday, but she had to arrive back at school early because of the unwelcoming nature of the residents in Neverland, and her allergy to pirates.
Caterpillar

The Caterpillar is a wonderlandian, who judges the undisciplined students of Wonderland High. He uses meaningless logic to make his judgments.
Cinderella
Cinderella is the previous character from the fairy tale with the same name, and also Ashlynn Ella's mother. She's destined to an untimely death, but her daughter doesn't want to think about it. She's a very loving mother, and believe that chores are good, solid and character-forming, so even having a lot of servants, she prefers that her daughter does some chores.
Cheshire Cat
The Cheshire Cat is the mother of Kitty Cheshire. She loves her daughter very much, but pushes her to make her practical jokes as outlandish as possible. Like some, the Cheshire Cat did not make it out of Wonderland in time.
Coachman
The Coachman is one of the main antagonists of "The Adventures of Pinocchio". He proceeds to kidnap the innocent children, like Pinocchio, to the Land of Toys, and so turn the children in donkeys, selling and enslaving them. He put a magical curse on Cedar Wood and her friends that turned them all into puppets. He plans on handing them over to the Evil Queen.Thanks to the coachman's curse, Cedar's nose began to grow along with a pair of donkey ears.
Cook
Cook is the servant cook of the Evil Queen's family. She is one of the few remaining inhabitants of Queen Castle. She is the mother of two twins, Butternut and Pie.
Dark Fairy
The Dark Fairy is the mother of Faybelle Thorn. Despite her intimidating demeanor, she supports Faybelle's choices as her daughter, and as her descendant.
Edith Broomswood
Edith Broomswood was once a member of the witch community, but now is a high-powered literary agent. She is a publishing agent for Yarns and Noble, and helps Holly O'Hair to publish her stories.
Emperor Buff
Emperor Buff is the main character from the fairytale "The Emperor's New Clothes". He had to deal with some uncomfortable issues with that whole invisible-clothing fiasco. The Emperor's Buff tailors made the most famous clothes in all the fairy tales, or they didn't. He and Empress Buff are married, and they have a child named Jason, who, like his father, is constantly undressed.
Empress Buff
Empress Buff knows how to lead their servants through control and intimidating, like telling a farmer with a sick wife to go away because they already were the customers of another farmer.  She wears as many layers of clothing as seen to be physically possible - silk camisoles, ruffled cardigans, fur lined capes, skirts with a dozen petticoats, and a huge belt over it all. She was so stiff with clothes she could barely bend her arms. She is married to Emperor Buff and they have a child named Jason.
Evil Queen
Vain, evil, unapologetic. Everyone knows of the Evil Queen from Snow White and the Seven Dwarfs. But the mother of Raven Queen is another level of villain, famous for the crimes of poisoning Wonderland and invading the kingdoms of other fairy tales. She eagerly awaits the day that her daughter continues her legacy and frees her from mirror prison.
Fairy Godmother

The Fairy Godmother is the mother of Farrah Goodfairy. She is known for helping Cinderella get to the ball by using her magic powers, and also, she makes beautiful princess dresses in her own store. Her magic is used to grant the wishes of others, not herself, and her spells break at Midnight.
Fairy Queen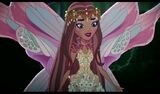 The Fairy Queen is the ruler of all fairies in Ever After and the mysterious organizer of the Blue Moon Forest Fest. As the queen of the fairies, she may hold higher authority and possess greater power than the Dark Fairy.
Fox and Cat
The Fox and the Cat are the villains from Pinocchio, and also the original owners of Sir Gallopad.
Frog Prince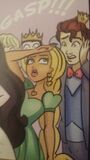 The Frog Prince is a fairy tale character from his story with same name. He is also known as Hopper Croakington Senior, and is the father of Hopper Croakington II.
Fish-Footman

Fish-Footman is one of the Queen of Hearts' personal servants, being lighter then the usual Wonderlandians. He is a very loyal and helpful servant, who does everything to please his queen.
Frog-Footman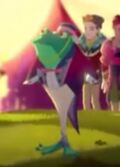 Frog-Footman is one of the Queen of Hearts' personal servants, being lighter then the usual Wonderlandians. He is a very loyal and helpful servant, who does everything to please his queen.
Genie
The Genie is a character from the fairytale Aladdin. He signed the Storybook of Legends at an unknown time before Raven Queen's Legacy Year.
Gepetto
Gepetto is the father of Pinocchio and the grandfather of Cedar Wood. He is one of the few people who knows what really happened with the Evil Queen. Now he and his family live in his cottage in a small sea-side village, living upstairs and working downstairs. He works with his son, making and selling carved wooden creations.
Goldilocks
Good King
The Good King is the father of Raven Queen and has a close relationship with her. He runs Queen Castle with the few remaining servants now that the Evil Queen is imprisoned.
Goose Girl
The Goose Girl is the main character from the fairytale with same name. She signed the Storybook of Legends at an unknown time before Raven Queen's Legacy Year.
Golden Goose and Magic Harp
Grandma
The Grandma is Cerise Hood's grandmother and Red Riding Hood's mother. She is the ruler of the Hood Hollow, who does anything to keep the peace between the Wolfs and the Hoods. She is distantly related to Sparrow Hood. The Grandma is the mother-in-law of Mr. Badwolf unknowingly, until Cerise saved Raven Queen and revealed herself to both the Hoods and the Wolfs in "The Unfairest of Them All".
Hansel and Gretel
Hansel and Gretel are the main characters from the fairy tale with same name, and also the parents of Gus Crumb and Helga Crumb . They ate the Candy Witch's gingerbread house without her permission, and told their parents that she forced them to do this. And because no one ever believes a witch, Hansel and Gretel's version of the story was written into the Storybook of Legends . Thus, the Candy Witch's reputation as a child-eating monster stuck to her like gooey caramel.
Issle Widget

Issle Widget, the Imp, is a creature who lives in the Dark Forest, and likes to play pranks. Although imp pranks are meant to be harmless fun, they can still be upsetting and harmful.
Jabberwock
The Jabberwock is the cruel Wonderlandian beast, who was once trapped in the Uni Cairn, but has since broken free. He tried to transform Ever After in his own Wonderland, but he was defeated and returned back to Wonderland.
Jack Beanstalk

Jack Beanstalk is the father of Jillian Beanstalk and the famous hero that climbed the Beanstalk and defeated the Giant.
Jack Horner
The not-so-little Jack Horner is a very famous spellebrity chef. As much as he is busy, Jack always keeps an eye open for good food.
John Thumb
John Thumb is the Aesop Spellementary School Principal, who became unwelcoming to Ginger Breadhouse after on snack duty day, Ginger's mother, the Candy Witch frightened the class just by her presence and by offering normal treats.
King Cole
The Old King Cole is a very happy ruler at Ever After. Apple visits Old King Cole to give her advice on how to be a good ruler, because she figured that a man that happy must hold the secret to successfully ruling a kingdom. After some jokes and laughs, Apple was sure that laughing loudly would not solve Ever After's problems, and goes to seek advice from another fairy tale ruler.
Lance Charming
Always up to date, Lance Charming reports on the latest events happening around Ever After.
Little-Bo Peep
Little-Bo Peep is the main character from the nursery rhyme with same name and is the mother of Lilly-Bo Peep. She has a huge obsession with sheep. Along with Goldilocks and Sleeping Beauty, she worked on the school paper when she was young, writing articles about her many sheep.
Mad Hatter

The eternally-eccentric Mad Hatter of Wonderland is now a businessman, the owner of his own Haberdashery and Tea Shoppe in the Village of Book End. He still makes the wildest magical brews and has trained his daughter Madeline to one day fill his figurative hat.
March Hare

The March Hare is the Teatime 101 teacher at Wonderland High. He uses a laughing audio during his class, while he enjoys his tea.
Marsh King
The Marsh King can go as far as dumping pollution into lakes just to keep his establishment in order. He is feared by most people around Ever After, often appearing in the fables and folklore whenever students tread around in marshes.
Mister Spider

Mister Spider is the giant spider fom the nursery rhyme, "Little Miss Muffet". He serves as Miss Muffet's helper, telling customers about the free web access at the frozen yogurt bar. He is a helpful spider, but is mistakenly avoided because of his appearance.
Mother Hubbard
Mother Hubbard is a old woman who is the owner of Old Mother Hubbard's Corner Market, where she sells a great variety of foods, like bread, fruitcake, sardines and humble pie.
Mrs. Watersprite
Mrs. Watersprite is the dive teacher at spellementary school. She appears to be a exigent teacher and a talented diver. Duchess Swan was one of her best students.
Nona
Nona is the nanny of Holly and Poppy O'Hair. When they were babies, she mixed up their birth certificates, meaning that it is Poppy who is the older twin and not Holly.
Narrator
A narrator in the books, he or she is a mysterious unknown-gender-about narrator who often feels like he or she gives Madeline Hatter the details by mistake far too often when she asks about the story. This narrator has went to Narration School, and even had a speech illness in A Wonderlandiful World due to the Jabberwock's dark magic where Madeline had to take over. Kind, but still willing to push to keep the story going. According to A Wonderlandiful World, Kitty Cheshire is also able to hear them. They are said to have a daughter in the books, who may or may not be Brooke Page.
Narrators
Constantly bickering, the Narrators often have trouble narrating the story together. The Male Narrator seems to sympathize with the Rebels, while the Female Narrator sides with the Royals. They are unknown to everyone except Madeline Hatter and Kitty Cheshire. They are the parents of Brooke Page, who they are training to follow in their footsteps as the Narrator of the Fairytale World.
Pinocchio

Pinocchio is the father of Cedar Wood and the son of the Puppet maker, Gepetto. He now owns his father's shop which makes puppets.
Oberon
Oberon along with his wife, Titania, are the owners of Oberon and Titania's Flower Market, which is located in Cedar Wood's Village. He is a tall, robust man, but had injured his leg in a fairy carriage race some years before the Legacy Year. It didn't slow him down much, though.
Ooglot
Ooglot is the Evil Queen's family ogre servant. He inhabits the Evil Queen's Castle, and helps Raven Queen with her return to school.
Peter Pumpkin-Eater
Peter Pumpkin-Eater and his wife Penelope Pumpkin-Eater are farmers and the original owners of Sir Gallopad. They grow pumpkins, of course - some large enough to be hollowed out and lived in, and others of the perfect shape to be turned into coaches.
Penelope Pumpkin-Eater
Penelope Pumpkin-Eater and her husband Peter Pumpkin-Eater were the original owners of Sir. Gallopad, but he was skinnier and shorter than the other horses. Even though he was handsome, the Pumpkin-Eaters didn't want to keep him. So they put the horse on sale, leaving him in a driveway.
Puss in Boots
The Puss in Boots is the main character from the fairytale with same name. He signed the Storybook of Legends at an unknown time before Raven Queen's Legacy Year.
Queen Charming
Queen Charming is the esteemed mother of Daring, Dexter and Darling, as well as the wife of King Charming. Although she highly supports etiquette and poise from her children, she herself may be hiding secrets of her own.
Queen of Hearts
The Queen of Hearts is the mother of Lizzie Hearts, who, like her daughter, tends to shout her misunderstood outbursts. Even so, the Queen of Hearts has shown true compassion and kindness as a mother to her daughter throughout the years. She is described to bear a heart-shaped birthmark on her left eye, which Lizzie has to paint on daily. This is however only mentioned in the Shannon Hale books.
Queen Pearl
Queen Pearl is Meeshell Mermaid's mother and the previous Little Mermaid. She and her husband, King Philip, rule the Sea Kingdom. She wants the best for her daughter.
Rapunzel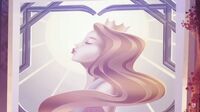 Rapunzel is the main character from the fairytale with same name. She is the mother of Holly O'Hair and Poppy O'Hair, and they have a very good relationship, since she knew all about the twins secret and accepts it.
Red Riding Hood
Red Queen
Rose Red
Rose Red is the main character from the fairytale Snow White and Rose Red. She signed the Storybook of Legends at an unknown time before Raven Queen's Legacy Year.
Sea Witch
The Sea Witch is the mother of Coral Witch and the previous generation's sea witch from The Little Mermaid. She is still considered the sea witch in the sea kingdom but is tired of her role and wishes to become a singing sensation. An avid collector of voices, she covets Meeshell Mermaid's voice for herself.
Seven Dwarfs
The Seven Dwarfs are character from the "Snow White and the Seven Dwarves" fairytale. After Snow White became Ever After's Queen, she hired 700 dwarves to be her butlers. The original seven live and work in Snow White's Castle. They are named Snoozy, Snappy, Frank (nicknamed Pouty), Phil (nicknamed Sloppy), Cassandra, Dumpy and Zelda.
She
She is a kind girl, who only speaks in tongue-twisters. She sells seashells by the seashore, in Cedar Wood's village.
Shoemaker and Elves
In Cedar Wood's village, the Shoemaker is one of the famous artist who lives on the main street. A troop of Shoemaker's Elves are the sandwich-makers at Ever After High. Shoemaker's Elves were notoriously bad at conversation, but are very good helping to makes shoes.
Sister Goose
Sister Goose is the kingdergarden class teacher at Aesop Spellementary School. She is a very kind and protective teacher. In her class, each day after recess, a different parent brought snacks to the kingdergarden classroom.
Sleeping Beauty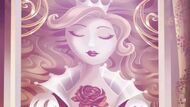 The Sleeping Beauty is the mother of Briar Beauty and she is cursed to always fall asleep at random places. She loves her daughter with all her heart, but sometimes cannot show it because she is asleep. She is also Beauty's sister and Beast's sister-in-law.
Snow King
Snow Queen
The Snow Queen is the character from the fairytale with the same name. She is Crystal Winter's mother and lives in an ice castle at the top of the world.
Swan Queen
The Swan Queen is the previous main character from "The Swan Lake" and also the mother of Duchess Swan. Thanks to her prince breaking his vow, thus dooming her, now she is permanently stuck in swan form.
Snow White
Snow White, the beloved princess from Snow White and the Seven Dwarfs, has achieved her Happily Ever After and is now a beloved queen. The Fairest of Them All is as beautiful as ever with her iconic black hair, white skin and blood-red lips. While her daughter, Apple White, doesn't completely resemble her, she is proud nonetheless and has raised her to be a kind ruler.
The Lion and the Unicorn
Thumbelina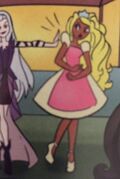 Thumbelina is the main character in the fairy tale with same name. She is also the mother of Nina Thumbell. She signed the Storybook of Legends at an unknown time before Raven Queen's Legacy Year.
Titania
Titania along with her husband, Oberon, are the owners of Oberon and Titania's Flower Market, which is located in Cedar Wood's Village.She is a flower fairy, who literally has a green thumb, which makes her adept at growing flowers.
Three Blind Mice
Tortoise and Hare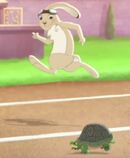 The Tortoise and the Hare are the main characters from Aesop Fable with same name. They are athletes who competes at Tri-Castle-On.
Tweedledum and Tweedledee
Troll Lady

The Troll Lady is looking for love and likes girly things, like shoes.
Ugly Duckling
The Ugly Duckling is the main character of the fairytale with same name. He signed The Storybook of Legends at an undetermined time before Raven Queen's Legacy Day.
Village of Book End Officials
The Book End Officials are often able to step into a problem and tend to it accordingly.
White Knight
The original White Knight is the former owner of the armor that now belongs to Darling Charming. He is the former protector of Wonderland. After they captured the Evil Queen, he helped many people escape. He was the last one through the gate. Jumped through just in time, he thought. But then it closed on top of him. He was trapped for ages. Thanks to Darling Charming and Raven Queen's spell, now he finally can rest. He gave his armor to Darling, as well as his White Knight title.
Woodrow Wolf
Woodrow Wolf is a distant cousin of Mr. Badwolf, and is also the owner of Huff and Puff Glass Blowers in Cedar Wood's Village, where he sells cups, vases and delicate glass flowers.
Yop
Yop is a goblin, who lives in the Queen's Castle. He had watched young Raven Queen, ready to tattle to her mother if he caught Raven doing anything kind.
Zephyrus
Zephyrus, also known as West Wind, is one of the Four Winds. The students visited him, and after they talk, they had fun at his beach.
Notes
There are some differences in occupations-depending on the media. When it comes to the staff of Ever After High:
In The Storybook of Legends, Maid Marian teaches Damsel-in-Distressing Class, while the Ever After High Secrets Hearts Diary and the Ever After High website's "Are You a Royal or Rebel?" quiz list her as the Crownculus teacher.
In the cartoon, Baba Yaga is the advisor to evil students, and also teaches Home Evilnomics in Class Confusion. In the Secrets Hearts Diary, she teaches Magicology. The Ever After High website's "Are You a Royal or Rebel?" quiz has her teaching History of Evil Spells and Spells, Hexes, and General Witchery.
In The Storybook of Legends, the White Queen teaches Crownculus, while she teaches Princessology in the Ever After High Secret Diary. The Ever After High website's "Are You a Royal or Rebel?" quiz has her teaching the latter and Kingdom Management.
While in the cartoon, Jack B. Nimble teaches some sort of Literature or Creative Writing course, the Ever After High website's "Are You a Royal or Rebel?" quiz has him teaching Geografairy. Also, in the "Read All About It" section in Once Upon a Times, Ashlynn's story has Jack B. Nimble as the Environmental Magic teacher.
Another thing that sets off things to accuracy:
In the media franchise, specifically in the web series and TV specials, there are two Narrators, one Male and one Female, which the Male sides with the Rebels and the Female with the Royals. However, in the book series by Shannon Hale, there is only one Narrator and their gender is unknown. They are said to have a daughter in The Unfairest of Them All, who may or may not be Brooke Page.
Community content is available under
CC-BY-SA
unless otherwise noted.