To better cover the various aspects of the subject matter, this article has been split into one main page and several subpages. Select which one you wish to read.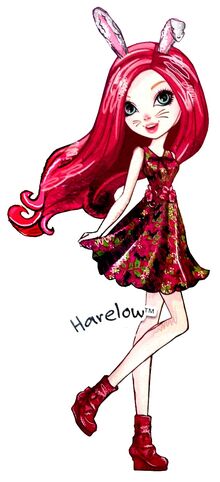 Harelow is a 2015-introduced and fiction-and-merchandise-only character. She is one of the Forest Pixies and made her debut in "Dragon Games".
Character
Appearance
Harelow has long, velvet-colored side-parted hair, teal eyes, a pink nose and whiskers on her cheeks. She has pale pink skin and bunny ears, but also ears at the sides of her head, and she wears a scarlet chiffon dress with a fabric ribbon in the drop of a v-neck and flowers on her waistline. Her dress has small flowers and bunny patterns. She wears scarlet ankle boots.
Relationships
Friends
Harelow appears to be close with her fellow Forest Pixies Deerla and Featherly.