To better cover the various aspects of the subject matter, this article has been split into one main page and several subpages. Select which one you wish to read.
Hunter Huntsman was trademarked on July 30, 2012 and his first doll came out in Early October, 2013. As of October 01, 2015, his doll number totals 1 and makes up 1.12% of the entire Ever After High doll collection. No other merchandise of him is currently available.
Dolls
Signature - Rebels
Doll: He has brown rooted and flocked hair and nude lips.
Clothes: He has a light green singlet with a forest silhouette across it. His hooded jacket is dark brown leather with dark green sleeves, red-brown cords hang from the top and the back is a auburn paisley pattern. His khaki pants are a dirty cream color.
Accessories: He has a brown cuff bracelet and a silver pendant of feathers and leaves hanging from his belt loop. His bag is a dark brown leather stitched-together messenger bag with a silver clasp. He has big leather hiking boots with thick straps.
Extras: Silver stand and a diary.
Notes: Hunter was only available in a 2-pack with Ashlynn.
TriCastleOn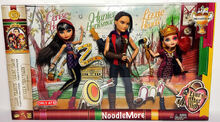 Doll: Hunter has brown eyebrows and eyes with nude lips.
Clothes: His shirt is brown with two red stripes and the Ever After High school symbol is pinned on his chest. The shirt has a purple hood. Hunter wears black pants tucked in his brown boots.
Accessories: Hunter accessorizes with a brown bow and his quiver with gold arrows and a fasten-on brown arm wrap made of vines.
Extras: Black stand and shared diary.
Notes: Hunter was only available in a 3-pack with Cerise and Lizzie.
Notes
Hunter has a Legacy Day design, though it isn't confirmed to be made into a doll. For his pledge, he wear Hunter has a large green hood covering his head. He has a gray collar and black shirt. The hood is attached with two silver buckles on a brown and gray hunting jacket. He wears light brown gloves with silver buttons.
Hunter has a Thronecoming design, though it is not yet confirmed to be made into a doll. He wears a fanciful chain dangle on his collar and two axe pins. He wears a debonair coat and underneath is a button-up gray vest. He wears a white shirt and dark green pants. He accessorizes with a small pink rose and a forest green kerchief.