To better cover the various aspects of the subject matter, this article has been split into one main page and several subpages. Select which one you wish to read.
This article or section is a stub. You can help the Ever After High Wiki by expanding it.
As of October 01, 2020, Justine's doll number totals 1 and makes up 0.64% of the entire Ever After High doll collection. No other merchandise of her is available.
Dolls
Signature - Royals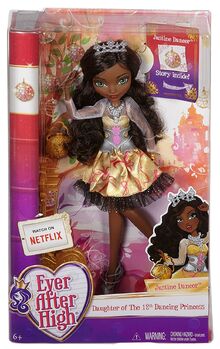 Doll: Justine has long and wavy dark brown hair, bright emerald eyes and brown eyebrows. She has glittery orange and bright yellow eyeshadow and vibrant red lips.
Clothes: Justine wears a casual cream yellow chiffon dress with translucent white sleeves and red ribbon patterns plus a black glittery trim on her skirt. She has a silver corset with pink painted jewels in the center. She wears metallic silver open-toed heels.
Accessories: Her accessories are a small silver headband in the shape of a thin crown, a matching silver necklace, a gold wrist bracelet and a small gold purse.
Extras: Gold stand, brush and a diary.
Notes: The paint on her corset is black in the stock photo, but pink on the released doll.