To better cover the various aspects of the subject matter, this article has been split into one main page and several subpages. Select which one you wish to read.
Kitty Cheshire was trademarked on May 14, 2013 and her first doll and her first doll came out in Early January, 2015. As of October 01, 2020, her doll number totals 4 and makes up 2.56% of the entire Ever After High doll collection. Other merchandise of her is limited to costumes.
Dolls
Signature - Rebels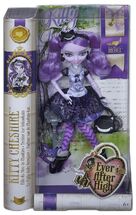 Doll: Kitty has a broad smile across her face, baby blue eyes and pale brown eyebrows, pale purple skin and curly hair tied in poofy twintails. She has pale pink lipstick.
Clothes: Kitty wears a gray fur collar and a sparkly light purple top with black fishnet sleeves, covered in abstract smiling faces. She wears a breezy purple skirt with a mesh layer of swirl and curl patterns, along with purple zigzag leggings and black whisker wedges with dirty-white fur.
Accessories: Kitty accessorizes with a small purple bow with gray cat bells, a black cat hat and cat face hand bag, along with black wrist/arm cuffs and black yarn ball earrings. Her ring is three yarn balls and bracelet features cat bells
Extras: Black stand, brush and a diary.
Notes: Kitty does not come with the arm warmers as in the original stockphoto.
Spring Unsprung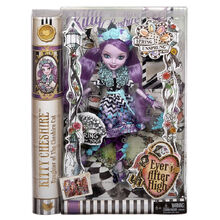 Doll: Kitty has a mild grin on her face, as well as low curly twintails. She has darkish-red lipstick.
Clothes: Kitty wears a black-and-white zigzag coat complete with crazy purple flower embellishments and a blue catnip-flower-collar and gray fur around the sleeves. Kitty wears a black shirt and purple tinted tights. Her shoes are silver with purple bows and blue roses and they twist around her legs like vines.
Accessories: She accessorizes with blue catnip flower headdress with a small gray cats ears bow on top of it all. Kitty has matching purple twist bangles, a purple butterfly ring, a grey-tiled handbag with light blue flowers, royal purple earrings and an electric blue bow rope belt. She comes with a wearable silver flower ring.
Extras: Silver stand, brush and a diary.
Notes: This doll is an exclusive to Walmart.
Way Too Wonderland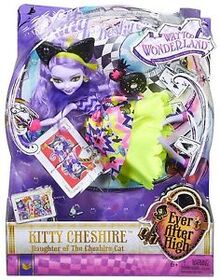 Doll: Kitty has her purple hair swept to the left side of her head, with a neon yellow streak through her fringe and another one through her ponytail. She has pale purple eyebrows and neon yellow eye makeup. She has deep purple colored lips.
Clothes: Kitty wears a zigzag pattern purple top with a long, flowing skirt embellished with club, butterfly, mushroom and grin patterns and multicolored zigzags and an apple green layer underneath with a scalloped edge. Kitty comes with a long purple cat tail. She wears a purple fur collar and high-heeled smoke flats with pink spurs.
Accessories: Kitty accessorizes with black gloves and pink fur cuffs. She has large black cat ears, translucent light green mushroom earrings and a rounded black clock purse.
Extras: Black stand and brush. Additionally, this doll comes with a small card.
Notes: This doll's box comes in a clock shape.
Book Party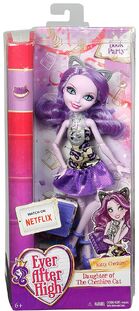 Doll: Kitty's hair is long and wavy, and parted to the right. Her eyeshadow is a shade of purple and silver. She has a grin and cute-pink lips.
Clothes: Kitty wears a sleeveless mini mermaid dress with her top sporting book patterns mixed with cats. Her skirt is short and holo purple. Her shoes are black cat heels with the tails curling around her ankles.
Accessories: She accessorizes with black cat ears, a silver necklace, and a purple book purse.
Extras: Silver stand and brush.
Notes: In the stockphoto her shoes and cat ears are black but in the doll release they are deep periwinkle. In The Australian Relese Of The Book Party Kitty Cheshire Doll Her Cat Ears Are Silver.
Costumes
For organizational purposes, information on the costumes representing Kitty Cheshire is only available elsewhere on the Ever After High Wiki.
Notes