The Lion and Lord Unicorn are characters who appeared in Way To Wonderland TV Special. They are from Through The Looking-Glass, and What Alice Found There.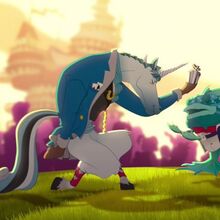 Character
They are fighting for the crown who belongs to the White King, which, given that they are on the White side as well, makes their rivalry all the more absurd.
Personality
The Lion is slow and rather stupid, although clearly the better fighter. The Unicorn is a educated gentleman.
Appearance
The Unicorn is a human-like unicorn, who wears formal clothes in blue, white and black colors.
Relationships
Family
The Lion has a son, and The Unicorn has a daughter.
Friends
They seem to be friends of the Queen of Hearts once they were invited to her birthday party.
Fairy Tale
Main article: Through the Looking-Glass, and What Alice Found There
Cartoon
They attend the Queen of Hearts birthday party. The unicorn offers a gift to the Queen of Hearts. She takes the gift and gives it a rattle. She then throws it into a pile of presents.
The Cheshire Cat tells Kitty that she tied the lion's tail on a table. Way To Wonderland