To better cover the various aspects of the subject matter, this article has been split into one main page and several subpages. Select which one you wish to read.
Meeshell Mermaid was trademarked on June 02, 2015. As of October 01, 2020, her doll number totals 2 and makes up 1.28% of the entire Ever After High doll collection. No other merchandise of her is available.
Dolls
Signature - Royals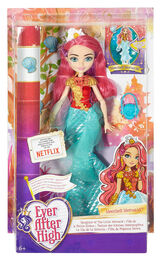 Doll: Meeshell has fair skin, bright teal eyes and her magenta hair with dark purple streaks is pulled back on her right side. On the same side, she is decorated with glittery pink and blue stars that matches her eye make up and glittery lips.
Clothes: Meeshell wears a gold chest & shoulder piece decorated with corals, pearls, shells and starfishes. Underneath, she has a dark orange strapless top and a teal mermaid-tail dress with shimmery scales. On the side she has some sparkly ruffles that mimic her fins. She wears white pearlescent shoes with seashell accents and heels that resemble a fish tail.
Accessories: Her accessories include a white coral tiara encrusted with starfishes, pearls and a golden clamshell in the middle. She also wears a golden arm cuff on her right hand that has a sculpted mermaid on it.
Extras: She comes with a story card.
Notes: This doll was available Early June, 2016 in Mexico and early July in the UK and started appearing in some USA stores in late July.
Back to School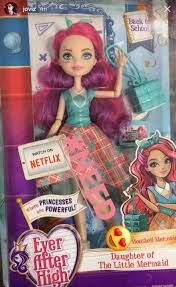 Doll: Meeshell has fair skin, bright teal eyes and her magenta hair with dark purple streaks is pulled back on her right side. On the same side, she is decorated with glittery pink and blue stars that matches her eye make up and glittery lips.
Clothes: Meeshell sports a blue top with the school crest and white buttons & collar. She also wears a dark coral pink skirt with a blue and yellow plaid pattern on top. The skirt also features blue shells scattered about on it. She also has a translucent blue undershirt.
Accessories: Her accessories include a personalized baby blue headband, baby blue book-style purse, white shoes and a laptop.
Extras: She comes with a black brush.
Notes: There is nothing to note about this doll or it's stockphotography