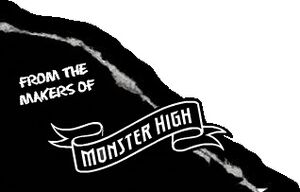 Monster High is one of Mattel's franchises and was launched in May of 2010 after a three-year development period. Monster High was the first new brand in years that Mattel created itself and was an attempt to hook into the market of multimedia-driven toy franchises, which up until then the company had largely passed up on. The franchise was an immediate hit, which even influenced other toy companies to create their own thematically alike franchises.
Monster High did so well that by November of its launch year, Mattel had set up a new team of executives, whose sole job is to concoct future franchises to be marketed after the Monster High model.[1] Ever After High is the first of these.
Fiction
The universe of Monster High is one in which monsters really exist, though they live separate from the human population. Humans and monsters are generally not fond of each other, and some types of monsters don't like other types of monsters either. Within this world, Monster High, run by Headless Headmistress Bloodgood, tries to promote change by welcoming not only all monsters, but being open to humans too.
The main protagonist of the series is Frankie Stein, who is not only new to Monster High but also (relatively) new to the world. Most stories, which cover everything from daily-life situations to life-and-death threats to world domination plots, rely heavily on her perspective. Other perspectives are provided alongside hers as the cast for a particular plot happens to be. Over time as the named student body has been upsized with characters who are retroactively present or, who explicitly are new arrivals Frankie's perspective has become less of a given, and some stories, although still rare leave her out altogether.
Ever After High and Monster High exist within the same universe, but they take place in different dimensions that are connected through portals. The two franchises primarily tell their own story, but they do on occasion feature something that is of relevance to the other franchise. The most significant binding element between the two is that C.A. Cupid transferred from Monster High to Ever After High, on the day the younger franchise launched.
Franchise model
Monster High launched through the release of three webisodes and the website early on in May. The first dolls, four single pack releases and one 2-pack, followed in two months time.
Monster High Wiki
As Monster High is the sister franchise of Ever After High, so too is the Monster High Wiki the sister wiki of the Ever After High Wiki. In order to optimize the reading experience, topics that are significant to both franchises are covered on both wikis, but topics that have only a small meaning to the other franchise are covered only on one wiki.
Articles on the Monster High Wiki that contain information relevant to Ever After High are:
References