To better cover the various aspects of the subject matter, this article has been split into one main page and several subpages. Select which one you wish to read.
Nina Thumbell was trademarked on August 27, 2014. As of October 01, 2020, her doll number totals 1 and makes up 0.64% of the entire Ever After High doll collection. No other merchandise of her is available.
Dolls
Signature - Rebels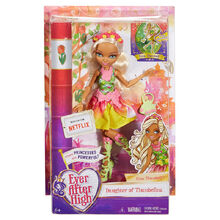 Doll: Nina has dark skin with pale blonde, flaxen hair which is parted from the left in the front, another part going into a twisted ponytail in the back and another tied to the right.along with bright blue eyes with shimmering nude eye makeup complementing her pink lips.
Clothes: Her dress is generally a very floral printed, flower designed dress. Nina wears a green and white sleeveless bodice with dark green diamond pattern, green swirls and pink and yellow dots. Tulip petal -shaped and patterned pink and yellow, ruffled skirt pieces on both sides, underneath is yellow, ruffled skirt with golden glitter. Tall, light green shoes with pink tulips. Big, pink belt made of flowers.
Accessories: She comes with a flower crown that is pink and yellow, a green leafy purse with pink tulips and earrings.
Extras: Gold stand, brush, and a diary.
Notes: TBA
Notes
Nina is a little smaller than the other short mold dolls.