Pesky is a squirrel that belongs to Hunter Huntsman and fiction-only character. His name is quite suited as he seems to enjoy annoying and playing tricks on Hunter. In the Shannon Hale books, a griffin comes to Hunter instead during the animal call in The Storybook of Legends.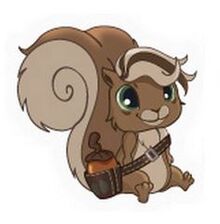 He only exists in the doll diaries/doll logs and the cartoon series.
Portrayers
In English, Pesky is voiced by Cindy Robinson.
Timeline