To better cover the various aspects of the subject matter, this article has been split into one main page and several subpages. Select which one you wish to read.
Playsets
Epic Winter Sparklizer Playset
Big pieces: A sparklizer playset, decorated with snowflake and ice shard designs.
Small pieces: Sticker sheets, a bag of glitter, a brush, a child-sized ring, a snowflake-shaped purse, and an owl figure.
Notes: The Epic Winter Sparklizer Playset comes with a Crystal Winter doll.
2-in-1 Castle Playset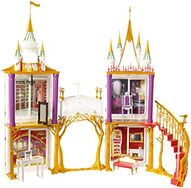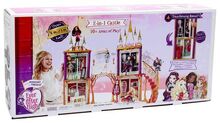 Big pieces: The castle, one couch, one locker, desk that turns into a mirror, convertible chair, vanity that turns into a cafeteria counter
Small pieces: One pair of translucent green shoes, dessert tray, hand mirror, hand hairbrush
Notes: Does not include any dolls