To better cover the various aspects of the subject matter, this article has been split into one main page and several subpages. Select which one you wish to read.
Poppy O'Hair was trademarked on February 07, 2013 and her first doll came out in Late May, 2014. As of October 01, 2020, her doll number totals 4 and makes up 2.56% of the entire Ever After High doll collection. No other merchandise of her is currently available.
Dolls
Signature - Rebels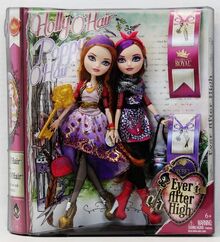 Doll: Poppy has her hair cut into a short bob, slightly longer on her right side. Her right side is predominantly deep purple, with her natural auburn being much shorter and covering the left side. She has lipstick the same pink-red as her sister, and purple eyeshadow.
Clothes: Poppy's dress has a black top, with pink sleeves, the sleeves have a crisscross pattern on them, which is shared with her sister. The bottom three quarters of the dress are pink and purple, with black and white braid patterns running across it. She has black pants, with mesh segments for the pink crisscross pattern.
Accessories: Poppy has long magenta boots with black laces and silver heels, the heels have a scissor cut into the back. She has a wraparound scarf of silver and black plastic, a small pink flower adorns the front, with a purple string looping around the front of the scarf, attached with a safety pin. Her bracelet is silver chains, attached to a purple band. She has a silver scissor ring, and silver scissor earrings, one attached to a chain. Her belt is a black braid. She has a pink headscarf, tied in a bow and covered in dots. Her bag is black with a black braid strap, and comes with compartments for her silver scissors, purple comb and pink hairclip.
Extras: She comes with a gold or silver stand and a gold or silver brush, as well as her bookmark diary.
Notes: Poppy was only available in a 2-pack with Holly. In Poppy's stockphoto her diary is replaced by Raven's 'Signature - Rebels' diary.
Through the Woods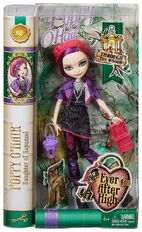 Doll: Poppy has smoky black eye shadow and natural pink lips. Her purple hair is swept down and straighter.
Clothes: She has a smoky purple and marble-mixed shrug covered in scissor patterns, along with a black dress which contains a hair swirl pattern. Her leggings bear the same pattern as her shrug and she wears black shoes.
Accessories: Poppy accessorizes with a hot-pink beret, silver hair dryer earrings, conjoined scissor necklace, and purple braid bracelet, a mini pink compass and a candlelight shaped like a tower top.
Extras: Silver stand and brush.
Notes: Her bracelet is purple in the promo photos, but is silver on the final doll.
Fairest on Ice
Doll: Poppy has smoky silver around her entire eye blended with a pale orange. Her lips are bright paradise pink and she has a double-snowflake beauty mark on the left side of her face. Unlike her usual hair, her hair is slightly longer. It is curlier and waist length.
Clothes: She wears a one-piece tea dress which is longer predominantly on the right side. Her top is opaque glittery silver and her skirt has a small white layer, decorated atop with a pink translucent with purple and white snowflakes. She wears translucent pink skating shoes which wrap up to her calves.
Accessories: Poppy accessorizes with a purple hexagonal snowflake necklace and shoulder pads. She wears a three-snowflake crown and a silver scissor wrap-around belt. Her arm wrap is the same color. A small snowflake chain is attached to it. She also has a hexagonal purple handbag.
Extras: Silver stand and brush.
Notes: There is nothing of note about this doll's availability or stockphoto.
Dragon Games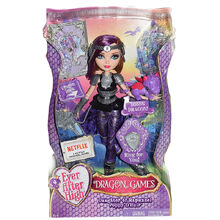 Doll: Poppy's hair has an even, bob-like cut. She has auburn eyebrows, bright pink lips, smoky purple eyeshadow and aqua eyes.
Clothes: Poppy wears a full-black dress along with a translucent purple bubble skirt with braid-and-scissors embroidery. Poppy also wears silver shoulder plates. She wears purple tights with multicolored stripes and heeled silver boots with black lace.
Accessories: Poppy accessorizes with chain headwear, a matching silver choker necklace, a silver belt molded into the braid-and-scissors, and an arm cuff of the same color.
Extras: Stand, brush, and a diary. Additionally, this is the only doll in the assortment which comes with a dragon.
Notes: Poppy was an exclusive to Walmart.
Notes