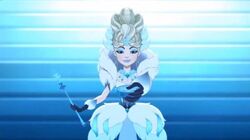 The Snow Queen from the TV special, "Epic Winter", which takes influences from the fairy tale of the same name, is Crystal Winter's mother and lives in an ice castle at the top of the world which she rules.
Character
Personality
The Snow Queen is a loving and caring mother and wife. She is a bit more strict in the upbringing of Crystal but gives in to her husband. She is fun loving and as keen in ice hockey as her family.
Under the kindness blindness curse, she is angry and blames everything that goes wrong on her husband. She becomes a cold, uncaring mother who is disappointed in Crystal.
Appearance
She has blonde, grey hair and blue eyes. She carries around a blue wand and she wears a blue dress with white fur on it. 
Relationships
Family
She is the wife of The Snow King and mother of Crystal Winter.
Fairy Tale
Main article: The Snow Queen
Gallery