To better cover the various aspects of the subject matter, this article has been split into one main page and several subpages. Select which one you wish to read.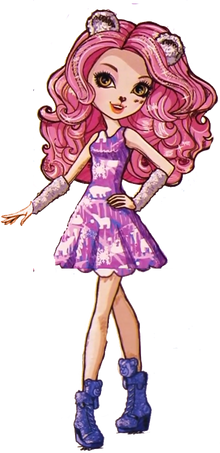 Veronicub is a 2016-introduced and fiction-and-merchandise-only character. She is one of the Snow Pixies and made her debut in "Epic Winter".
Character
Apperance
Veronicub is a small petite girl that has polar bear like features such as her ears and a nose that connects to her mouth. Her hair is bubblegum pink. It is appears that she likes the color purple, as her civilian form is a purple dress and purple fur arm warmers. Her boots are are fuzzy and purple and have mini purple polar bears on top of them.
Interests
She loves playing and gathering together friends, which makes her the perfect party planner at the Ice Palace. And she loves helping crystal winter.
Relationships
Friends
Veronicub appears to be close with her fellow Snow Pixie Foxanne. She is a friend with Crystal Winter.
Notes
Veronicub's name, Veronica is a a herbaceous plant of north temperate regions, typically with upright stems bearing narrow pointed leaves and spikes of blue or purple flowers.