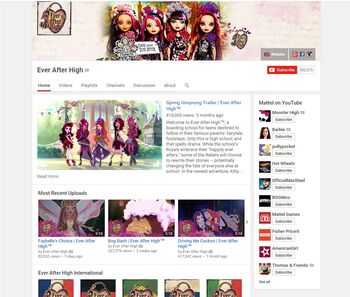 In preparing the media franchise that Ever After High was to be, Mattel set up an Ever After High YouTube account on September 14, 2012. It was put to use on May 30, 2013, the day the franchise launched.
On May 30, 2013, the first three webisodes of the cartoon series were uploaded, introducing the main function of the YouTube account: an accessible location for people to watch and rewatch Ever After High webisodes. They are also uploaded on the the main website, but in slightly lower quality.
Since Chapter 3, the Ever After High YouTube Channel started uploading webisodes and original content biweekly on Fridays.
Unlike Monster High YouTube channel, it does not have a parody of YouTube.